1,000 Creative Writing Prompts: Ideas for Blogs, Scripts, Stories and More by Bryan Cohan When you finally have the opportunity to sit down and write, you want absolutely nothing to get in your way. In an ideal world, the ideas would flow from head to pen quickly and easily. You would have thousands of ideas at your fingertips. This new idea-generating book makes that dream a reality. With exactly one thousand prompts, 1,000 Creative Writing Prompts: Ideas for Blogs, Scripts, Stories and More is truly a cure for writer's block. These story starters cover a large range of topics, including: * Holidays * College * Health * Regrets * Nature * Shakespeare * Religion * The American Dream * ...and over 40 more! These prompts help you to write from the heart so that you can relate to your audience. They work for blogs, scripts, stories, poems, essays and anything else that requires that you write with no interruptions.
101 Creative Writing Exercises by Melissa Donovan 101 Creative Writing Exercises takes you on an adventure through the world of creative writing. Explore different forms and genres by experimenting with fiction, poetry, and creative nonfiction. Discover effective writing concepts, tools, and techniques. Create projects you can publish. Ideal for new and experienced writers alike, this book will enlighten and inspire you with exciting new ideas.
A Creative Writing Handbook: Developing Dramatic Technique, Individual Style and Voice An inspiring range of approaches to enrich your writing skills. Packed with stimulating writing exercises, numerous quotes and over 30 extracts from literature across a wide variety of genres, the book can be followed as a complete course or dipped into throughout.
A straightforward Guide to Freelance Writing by Stephen Wade
Beginnings, Middles and Ends by Nancy Kress
Book Proposals: The Essential Guide Stella Whitelaw
By Cunning and Craft: Sound Advice and Practical Wisdom for Fiction Writers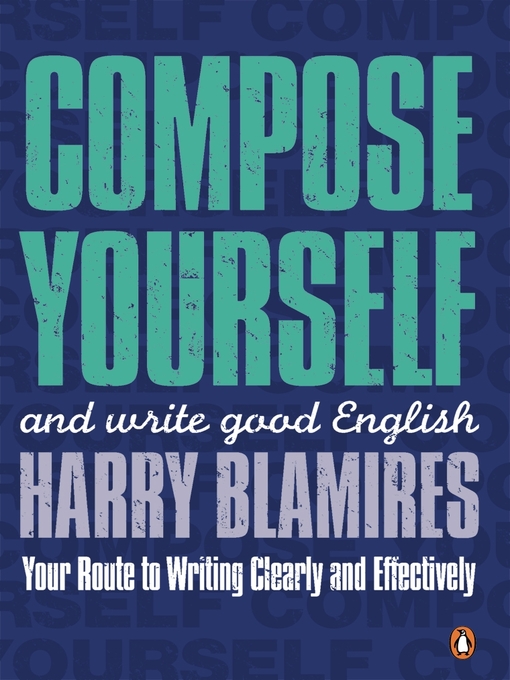 Compose Yourself (eBook): and write good English This book has a simple thesis: to write well you need to think clearly about what you want to say. Blamires brings the reader's common sense into play to illustrate how by thinking through what you want to say and how you say it, you can communicate both effectively and elegantly. There are a lot of contemporary examples from magazines, books, advertising material and the like to illustrate both good and bad English.
Copywriting: Successful Writing for Design, Advertising and Marketing
Creative Writing: How to Unlock Your Imagination, Develop Your Writing Skills and Get Published
Fat-Free Writing: Write for the Information Age
Feature and Magazine Writing: Action, Angle and Anecdotes
How Not to Write a Novel by Howard Mittelmark and Sandra Newman There are many ways prospective authors routinely sabotage their own work. But why leave it to guesswork? Misstep by misstep, How Not to Write a Novel shows how you can ensure that your manuscript never rises above the level of unpublishable drivel; that your characters are unpleasant, dimensionless versions of yourself; that your plot is digressive, tedious and unconvincing; and that your style is reliant on mangled clichés and sesquipedalian malapropisms. Alternatively, you can use it to identify the most common mistakes, avoid them and actually write a book that works.
How to Publish Your Poetry (Writers' guides)
How To Write A Book ASAP: The Step-by-Step Guide to Writing Your First Book Fast! By Garrett Pierson Garrett Pierson coaches individuals and businesses in their quest to find what it takes to be successful by motivating them to create the life they deserve and the business they desire. His valuable, insightful tools and techniques make it easy for anyone with personal or business aspirations to reach the previously unattained.
How To Write A Book This Weekend, Even If You Flunked English Like I Did by Vic Johnson Best-selling author Vic Johnson actually wrote this book in a weekend to prove how easy it is. And he gives you step-by-step detail of everything he did, including the resources he uses to turn out content-rich books in no time at all.
How to Write a Damn Good Novel: A Step-by-Step No Nonsense Guide to Dramatic Storytelling by James Frey
How To Write A Novel: A Practical Guide to the Art of Fiction "This little book is one which so well explains itself that no introductory word is needed; and I only venture to intrude a sentence or two here with a view to explain the style in which I have conveyed my ideas. I desired to be plain and practical, and therefore chose the direct and epistolary form as being most suitable for the purpose in hand."
How To Write a Romance Novel by Susan Palmquist Do you have an idea for a romance story but don't know where to start? How To Write a Romance Novel will show you how to get ideas, shape them into a story that's unique and how to create memorable characters. It also covers two crucial aspects of the genre, emotion and sexual tension. Whether you want to write for Mills and Boon/Harlequin or pen more erotic stories like Fifty Shades of Grey, How to Write a Romance will get you started and help you get published. Susan Palmquist was born in London, England but now resides in the US. Shes been writing since the late 80s and is now a freelance writer, short story writer, blogger, and author. Her first romance novel, A Sterling Affair was published by The Wild Rose Press. Her work has also appeared in magazines and anthologies in both the US and UK. Under her pen name, shes bestselling author Vanessa Devereaux. As well as her writing career, shes also a tutor for Writers News Home Study Courses, and frequently teaches workshops through various chapters of the Romance Writers of America.
How to Write for Children and get Published
No Contacts? No Problem! How to Pitch and Sell Your Freelance Feature Writing This book shows you the techniques that real freelance writers use to sell their ideas and get into print.
Novel Writing: 16 Steps to Success This title provides a methodical and effective approach to planning, plotting, writing and finishing a successful novel.
Reading Like a Writer: A Guide for People Who Love Books and for Those Who Want to Write Them (P.S.) by Francine Prose This book presents an inside look at how the professionals read and write. Long before there were creative writing workshops and degrees, how did aspiring writers learn to write? By reading the work of their predecessors and contemporaries, says the author. In "Reading Like a Writer", Prose invites you to sit by her side and take a guided tour of the tools and the tricks of the masters.
Rip the Page!: Adventures in Creative Writing Here are the ideas, experiments, and inspiration to unfold your imagination and get your writing to flow off the page! This is the everything-you-need guide to spark new poems and unstick old stories, including lists of big, small, gross-out, and favorite words; adventurous and zany prompts to leap from; dares and double dares to help you mash up truths and lies into outrageous paragraphs; and letters of encouragement written directly to you from famous authors, including: Annie Barrows, Naomi Shihab Nye, Lemony Snicket, C. M. Mayo, Elizabeth Singer Hunt, Moira Egan, Gary Soto, Lucille Clifton, Avi, Betsy Franco, Carol Edgarian, Karen Cushman, Patricia Polacco, Prartho Sereno, Lewis Buzbee, and C. B. Follett.
Show me the Funny! By Peter Desberg and Jeffrey Davis
Story Engineering: Character Development, Story Concept, Scene Construction
The "Everything" Creative Writing Book: All You Need to Craft Well-Written - and Marketable - Stories, Screenplays, Blogs and More
The ABC Checklist for New Writers
The Book on Writing: The Ultimate Guide to Writing Well by Paula LaRocque You're going to love the way Paula LaRocque teaches in The Book on Writing. A celebrated writing coach with a sense of humor and a gentle touch, she's also a master writer herself with a long and distinguished career in both teaching and practicing the art of writing.
The Creative Writer: Level One: Five Finger Exercises by Boris Fisherman Breaking down the elements that go into successful imaginative works, The Creative Writer leads aspiring writers through the skills needed to construct each. The assignments, designed to make students more aware of language and more confident in their own ingenuity, build on each other until beginning creative writers have successfully created their own stories, poems, and essays. Simple but innovative exercises encourage young writers to strengthen their vocabulary and become aware of the patterns of sentences Legends and folklore are used to teach point of view, characterization, plotting, and other vital skills Classic poetry serves as a model for the student s own original poems Unlike most how to write books, The Creative Writer is designed to be used in a mentor/student relationship, with teaching, guidance, and evaluation tips provided for the mentor or teacher Can be used as a complement to Writing With Skill or on its own
The Dictionary of Worthless Words
The Emotion Thesaurus: A Writer's Guide To Character Expression by Angela Ackerman and Becca Puglisi One of the biggest problem areas for writers is conveying a character's emotions to the reader in a unique, compelling way. This book comes to the rescue by highlighting 75 emotions and listing the possible body language cues, thoughts, and visceral responses for each. Using its easy-to-navigate list format, readers can draw inspiration from character cues that range in intensity to match any emotional moment.
The Essential Guide to Getting Your Book Published: How to Write It, Sell It, and Market It . . . Successfully by Arielle Eckstut Written by experts with thirteen books between them as well as many years' experience as a literary agent (Eckstut) and a book doctor (Sterry), this nuts-and-bolts guide demystifies every step of the publishing process: how to come up with a blockbuster title, create a selling proposal, find the right agent, understand a book contract, develop marketing and publicity savvy, and, if necessary, self-publish.
The Everything Guide to Writing a Romance Novel
The Everything Guide to Writing Children's Books by Luke Wallin and Eva Gordon
The Freelance Writer's Handbook
The Indieauthor Guide: Self-Publishing Strategies Anyone Can Use "The Indie Author Guide" offers aspiring self-published authors a roadmap to success by giving them exclusive insight to the latest technology and step-by-step instructions for making the most of it ...
The Insider's Guide to Getting Your Book Published by Rachael Stock
The Insider's Guide to Writing for Television by Julian Friedmann and Christopher Walker
The Novel-Writer's Toolkit: Your Ultimate Guide to Writing and Publishing a Successful Novel by Caroline Taggart
The Oxford Paperback Thesaurus This up-to-date, general purpose thesaurus offers over 300,000 alternative and opposite words. Synonyms are given in order of usefulness, showing the most relevant synonym first. Following market research, the third edition of the Oxford Paperback Thesaurus now includes even more, highly illustrative, real examples of usage to show synonyms in context and help you to identify the right sense ...
The Practice of Creative Writing: A Guide for Students by Heather Sellers
The Productive Writer: Strategies and Systems for Greater Productivity, Profit and Pleasure The creative process is often a messy one, with Post-It notes, notecards and research materials everywhere. It's easy to loose sight of one's dreams in a mess of papers. This book shows writers how to establish order out of chaos ...
The Scene Book: A Primer for the Fiction Writer
The Weekend Novelist Redrafts The Novel
Write a Children's Book and Get it Published
Write Great Fiction: Description and Setting
Write Your Non Fiction Book: How to Become a Published Author
Write Your Novel in a Month: How to Complete a First Draft in 30 Days and What to Do Next by Jeff Gerke This guide helps writers produce good material quickly – perfect for those participating in November's NaNoWriMo, but also great for use anytime inspiration hits, or for checking off those pesky New Year's resolutions. But the book doesn't stop there. It also helps those writers take that rough first draft and position it for publication.
Writer's Guide to Character Traits by Linda Edelstein What makes a person commit a white-collar crime? Who is a likely candidate to join a cult? Why do children have imaginary friends? How does birth order affect whether or not a person gets married? When does mind over matter become a crippling problem?
Writers In Black and White: Contemporary Authors Discuss the Writing Life Solange Berchemin and Alanna Lynott
Writing and Illustrating the Graphic Novel
Writing Fiction For Dummies by Randy Ingermanson and Peter Economy A complete guide to writing and selling your novel So you want to write a novel? Great! That's a worthy goal, no matter what your reason. But don't settle for just writing a novel. Aim high. Write a novel that you intend to sell to a publisher. Writing Fiction for Dummies is a complete guide designed to coach you every step along the path from beginning writer to royalty–earning author.
Writing for Video Games Video games is a lucrative new market for scriptwriters but writing for video games is complex and very different to traditional media (tv or film). This practical guide shows how you can adapt your writing skills to this exciting medium.
Writing the Paranormal Novel by Steven Piziks
Writing Tools: 50 Essential Strategies for Every Writer by Roy Peter Clark 'Tools Not Rules' says Roy Peter Clark, vice president and senior scholar at the Poynter Institute, the esteemed school for journalists and teachers of journalists. Clark believes that everyone can write well with the help of a handful of useful tools that he has developed over decades of writing and teaching. If you google 'Roy Peter Clark, Writing Tools', you'll get an astonishing 1.25 million hits. That's because journalists everywhere rely on his tips to help them write well every day - in fact he fields emails from around the world from grateful writers.
Writing Well: The Essential Guide
You can write a novel In this title, veteran author James V. Smith breaks down the complex novel-writing process into a simple, 10-step writing process that shows writers how to take their story's three most important scenes from brainstorm to final-draft perfection ...
You Can't Make This Stuff Up: The Complete Guide to Writing Creative Nonfiction by Lee Gutkind From rags-to-riches-to-rags tell-alls to personal health sagas to literary journalism everyone seems to want to try their hand at creative nonfiction. Now, Lee Gutkind, the go-to expert for all things creative nonfiction, taps into one of the fastest-growing genres with this new writing guide. Frank and to-the-point, with depth and clarity, Gutkind describes and illustrates each and every aspect of the genre, from defining a concept and establishing a writing process to the final product. Offering new ways of understanding genre and invaluable tools for writers to learn and experiment with, "You Can't Make This Stuff Up" allows writers of all skill levels to thoroughly expand and stylize their work.
Your Writing Coach: From Concept to Character, from Pitch to Publication - Everything You Need to Know About Writing Novels, Non-fiction, New Media, Scripts and Short Stories
More books for writers ...
Click on this link to display reference books for students