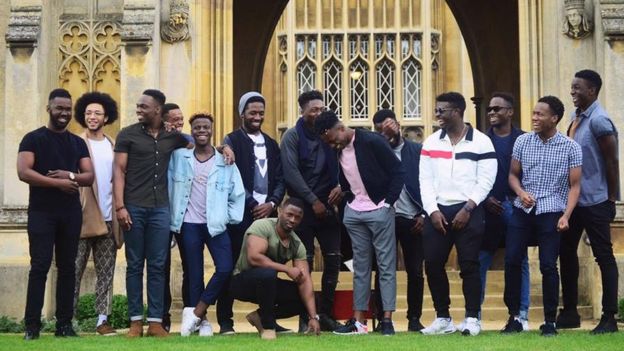 14 black male students from Cambridge University have hit the headlines following the publishing of a photo on Facebook.
Inspired by the viral image of young black men from Yale, the Cambridge ACS (African-Caribbean Society) decided to capture just some of the black men who contribute to one of the world's most innovative intellectual spaces.
The image of the students on the lawn at the University was posted in a bid to encourage more black students to apply to the university, challenging the stereotype of a Cambridge student.
The post on Facebook said: "In 2015, only 15 black, male undergraduates were accepted into Cambridge.  However, it is important that despite their underrepresentation, we let young black people know that this is something that they can aspire to."
"There are people here at Cambridge from different backgrounds, who don't fit the stereotypical image of what a Cambridge student looks like, doing their thing and killing it."
Dami Adebayo, who studies engineering, said there needed to be more black role models for men to aspire to.
Talking to the BBC he said growing up he had aspired to be like actors, artists and sportsmen such as Lebron James, Will Smith and Jay-Z because "that's how I perceived success".
He went on: "Barack Obama is probably the first black role model I had who made it 'cool' to be 'book smart', and that was by the time I was 11, that's crazy."
Mr Adebayo said he applied to Cambridge University because he "knew he was capable" but was unsure if it would be the "right place".
"But with a mindset like that, these types of institutions will never be the right place for people like me.
"Every student from a diverse background who applies and gets in here is a step towards changing that."
Cambridge is one of 27 universities that are currently members of the Race Equality Charter (REC) – a scheme designed to address the representation of staff and students from ethnic minority backgrounds.